Did you know that according to statistics Canada that since 2015, the percentage of people consuming more fruits and vegetables are decreasing every year?
In this Organifi Green Juice review article, you'll discover how to consume over 10+ superfoods the fastest and simplest way…
Is Organifi worth your hard-earned money?
What are the different Organifi Green Juice powder products available today?
What are the results others are getting with Organifi?
I will answer these questions in this article and more, so let's get started.
Are you feeling low on energy and stamina? Suffering from the common cold?
You might suffer from 'malnutrition' on a molecular level. If you're looking for a rich source of plant power you're in the right place…
Click here to visit the OFFICIAL website of Organifi for the best deals
Note: If you're pregnant, have an abnormal blood sugar level, take any medications or have any medical condition, please consult your health professional before changing your diet.
How this Organic superfood works and why I'm super excited
Great source of protein and source of vitamin c (and more) for good health
Excellent source of antioxidants and other healthy nutrients
Heart health friendly
Minty taste/pleasant taste for most people
Superfood blend (10+ ingredients)
Health supplement if you're looking for Green superfoods with powerful antioxidants
Just One Scoop in cold water or coconut water
You're busy. I'm busy. We all are.
What I love about using supplements like green powders is that I can get my DAILY dose of dietary fiber with fruits and veggies (helps you get your daily dose of vitamin C and more) in less than a minute with little to no side effects.
And there's no denying the overwhelming DATA on how important consuming more fruits and vegetables are for our body and overall health. Unfortunately, studies and stats shows that despite our knowledge that fruits and veggies are good for us, people are consuming less of it each year.
How I Learned About Organifi
Back in 2013, I started this blog (JuicingDietWorks) as a way of documenting and sharing my journey of consuming more fruits and vegetables.
I've shared several articles, reviews, and recipes here and I've realized that it has grown significantly over the past few years.
And that's because of readers like you who are interested in taking charge of their health and wanting to create healthier habits that would replace unhealthy lifestyles.
I can still remember the first time that I've created my very first green smoothie. I've used spinach, banana, a half serving of apple, water and blend it on my first Nutribullet machine I loved it.
It was simple and easy to prepare and it tasted great.
The only downside was that you NEEDED to buy fresh produce (fruits and vegetables) at least 1/2 times a week.
And if you're buying organic from farmer's market, the cost of these fruits and vegetables is definitely going to affect your weekly budget.
I thought to myself, what if there's another way to consume more fruits and vegetables? What if I don't have to GO to the Farmer's Market and grocery store every week?
What if there's a way to ensure that I meet the daily recommended intake of at least 5 servings per day of fruits and vegetables?
Those questions led me to search online and my research has led me to stumble on Green Powdered Supplements.
Organifi Green Juice powder is basically a food supplement made from fruit and vegetable ingredients that would otherwise be hard to procure on their own.
And one of the upcoming Green Powdered supplements is Organifi Green (the very first version of Organifi).
Are you Consuming Enough Fruits & Veggies daily?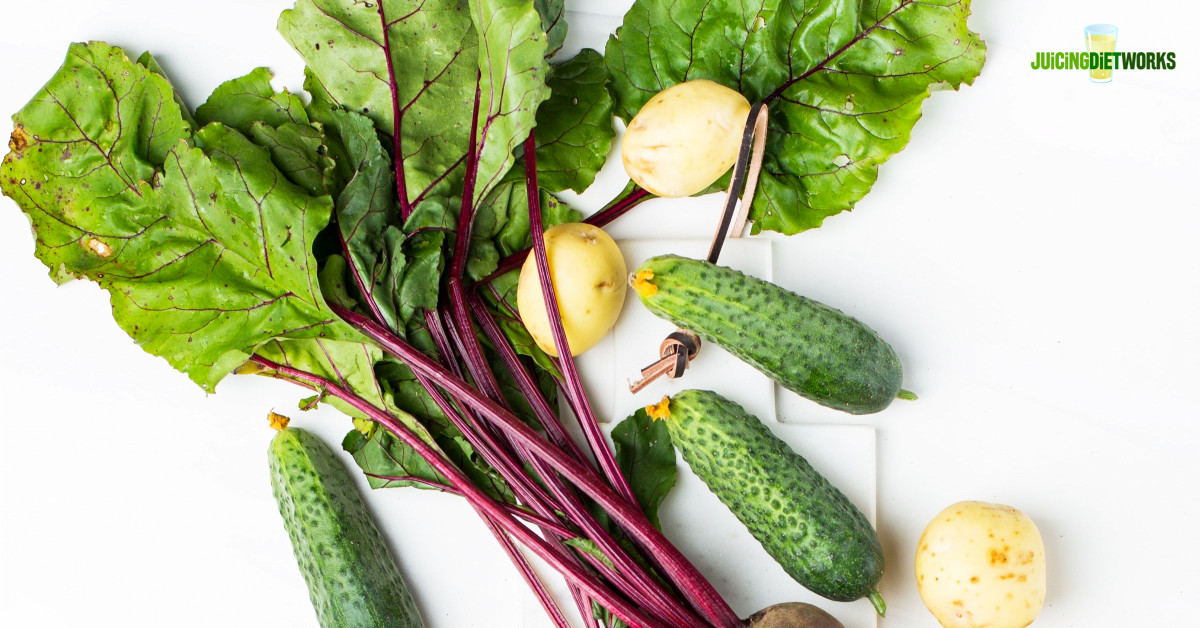 If you're NOT a VEGAN, a VEGETARIAN or if you don't live on a farm, I would assume that most people on the typical American/North American diet are not probably consuming the recommended servings of at least 5 per day (3 fruits, 2 vegetables).
And as such, you can immediately notice a big drop in your energy levels especially in the afternoon (unless you grab a quick coffee or a sugary snack). Does that sound familiar?
What does your breakfast look like? What do you feed your family? Does it consist of processed foods like CEREALS, Cookies, Hotdogs, etc?
Adding some blueberries and strawberries on your cereal does help a little, but mostly your consumption of fruits and vegetables is still NOT enough.
And it's NOT ENTIRELY your fault. Just look at the commercials and ads that bombard you every day that claim to be healthy solutions, like those low-fat desserts or cookies.
And when you go with the traditional route of medicine, it usually has some inconvenient side effects as well.
We are literally going to STRUGGLE with choosing healthier options because of our environmental and cultural setting.
I wish it was that easy
I don't know about you, but most people including myself (especially those who have not been consuming a lot of veggies) are struggling to eat more greens.
Fortunately, this is where SUPPLEMENTATION comes in.
Supplements are NOT a Magic bullet.
But supplements are there to support your healthy lifestyle and goals. It can even help improve your immune system and allow your body to fight off pathogens and illness.
If you're not committed to change and improve yourself, you'll be flushing your money down the drain.
Ok, so you're NOT looking for a magic bullet, great keep reading.
Shake, pour and drink
Change your lifestyle. It's as easy as 1-2-3. Build a healthy habit for yourself. No more junk foods. Exercise more often. Eat "Fat Burning foods"…
Introducing Organifi Green Juice Supplement Superfood Powder
I told myself, I can either buy fresh fruits and vegetables, consume a multivitamin often or I can SUPPLEMENT my supply of fruits and vegetables with a SCOOP and BOTTLE of Organifi.
When there are times that I could not get fresh fruits and vegetables that I like because of seasonality or simply because I didn't have enough time to go to the groceries then having a Bottle of Organifi Green can help ensure that I still meet my daily requirements of fruits and vegetables.
And I'm going to give you more information about this product in just a short while…
My Initial Thoughts about Organifi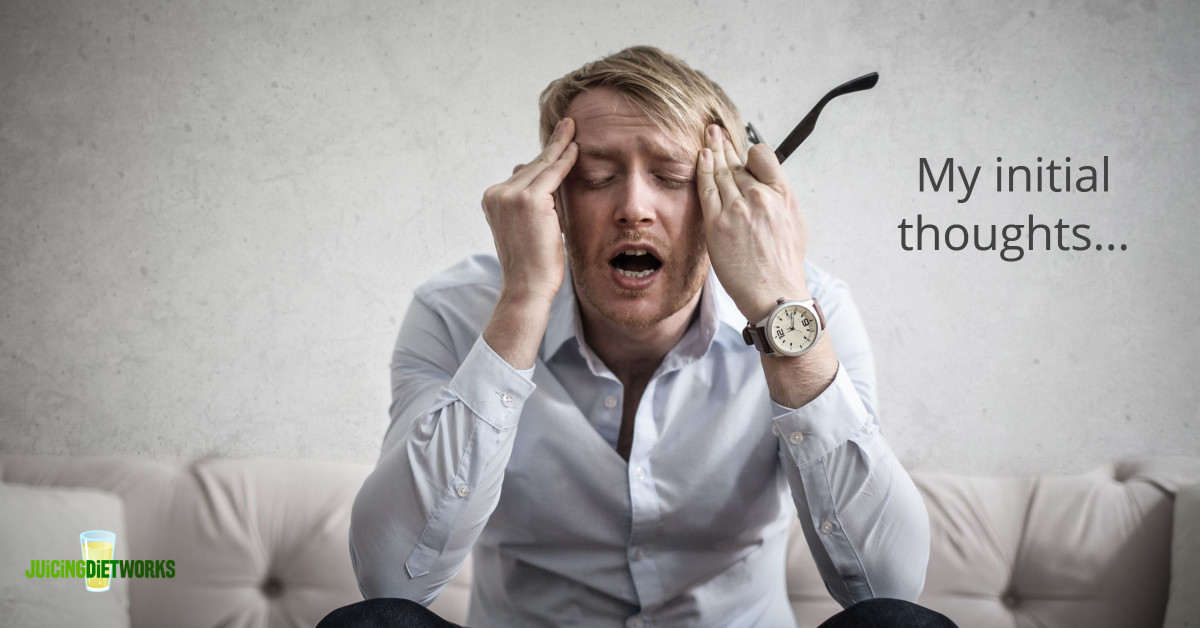 I was curious about Organifi.
I don't know if it will boost my energy or not or if it has any health benefits that can help improve my immune system, or help improve mental clarity just like what I've experienced in the keto diet.
But it's one of the green powders that has been selling really well and a lot of people have left positive reviews about it. I'm about to find that out.
This is why when I've heard about the product Organifi from Drew Canole whom I've followed for years, I was really intrigued You see if you're like most people, choosing healthier options and meals will always have challenges.
There's the challenge of going to the grocery store weekly to buy your ingredients (sometimes I go twice a week).
And there's also the financial side of it, which can get very expensive quickly especially if you're trying to buy organic foods.
And there's also the factor of taste when creating your drinks.
Not all the ingredients you've used when juicing and blending will taste awesome.
And finally, when juicing fruits and vegetables, I just can't stand how I'm throwing away a lot of fiber because that's what you do when you're juicing.
So I got really curious when I've heard about Organifi and I know that you're curious as well, so without further ado, let's get right to it.
What is Organifi?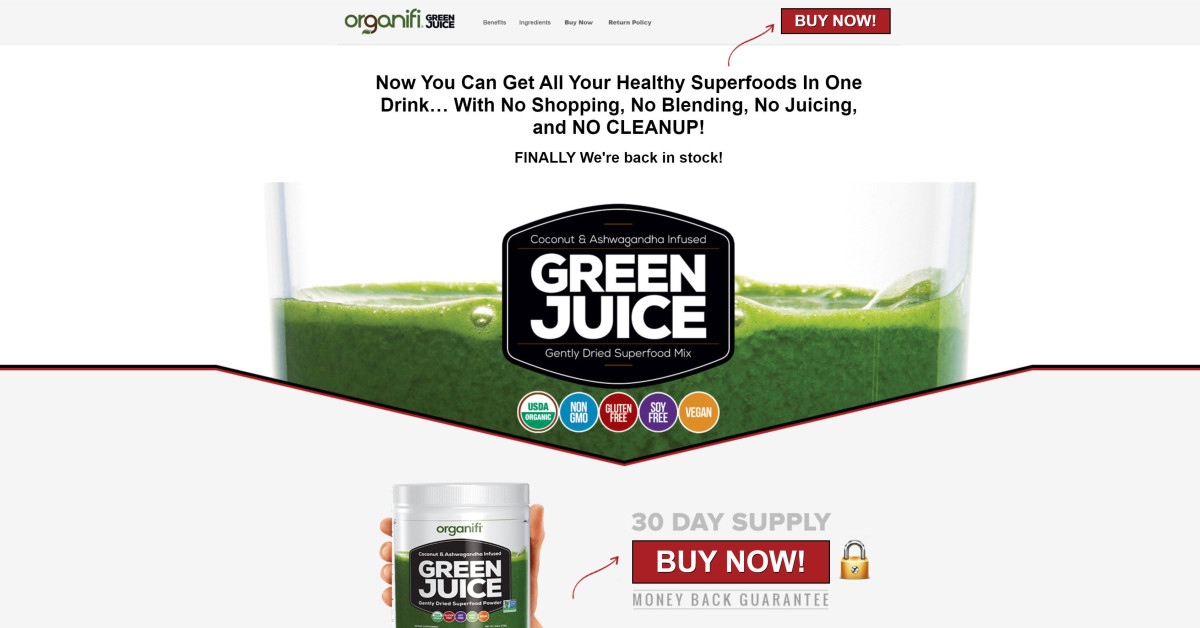 11 Superfoods packed with natural ingredients in one bottle?
If you've been juicing and drinking green smoothies before, it's like putting 11 ingredients (super greens) in your drink for more brain power. That's what I love about organic greens, it can help with getting your daily dose of nutrition, source of essential amino acids, improve your cognitive function, boost your immune function and more.
I don't know about you, but putting 11 juice ingredients on my drink would probably not taste good, and it would also be quite expensive.
Organifi is a green powder that contains extracts of various fruits and vegetables packaged in convenient bottles so you can start avoiding junk food.
You can add a scoop of high concentration, Organifi's proprietary blend of Green Juice on your smoothie drinks as an energy drink. and protein powder, but you can also drink them together with a favorite liquid of your choice.
There are no artificial sweeteners, good for your digestive health I've become an affiliate of Organifi since then and I do earn a small percentage or commission, without any extra cost on your part, when you decide to purchase it via my affiliate links).
Now, while I'm an affiliate of Organifi, I didn't promote it until I've read more about the reviews and discover more information on what the product can and cannot do for my health.
For a quick summary and overview for Organifi Green Juice Powder, my favorite superfood drink and is now part of my daily diet, it's a dietary supplement made out of 11 unique and superfood, organic ingredients, made into powder form designed to be a supplemental source of nutrients, promote brain health, and prebiotic for those who are seeking ways to supplement their health.
I've mentioned in the first part of this article and review that Organifi Green Juice powder, mainly consists of 11 superfood ingredients (alkaline greens) and that is what we're going to discuss next along with its nutritional value.
The 11 Superfood Ingredients of Organifi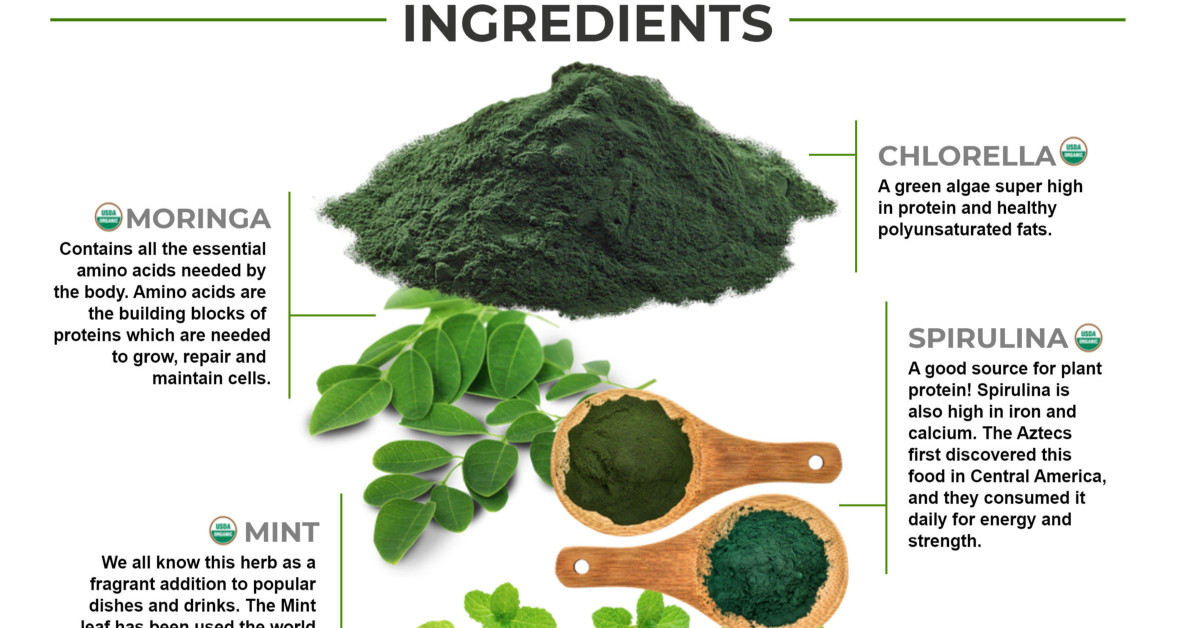 When I looked at the label and ingredients of Organifi, I was amazed. These ingredients are hard to find and buy on their own.
I often wonder if with all these greens and vegetables will it have a pleasant taste? It doesn't have the sweet taste that you'll find in sugary drinks, but it doesn't have the yucky green taste too.
Well, maybe it totally depends on your taste buds. I'm not sensitive with this drink, so it's palatable for me.
It does feel like you're drinking from what the earth can give you best, whole foods and nutrients! How challenging it is to find healthy superfoods to maintain a healthy diet, but there are options out there.
You'll probably have to check a lot of local stores if you want to buy these ingredients. Worst, you won't find some of these ingredients available in your local area.
Organifi Green Juice made a great choice to source these hard-to-find ingredients and transform them into a supplement.
Let's go over each of these ingredients quickly…
Moringa Oleifera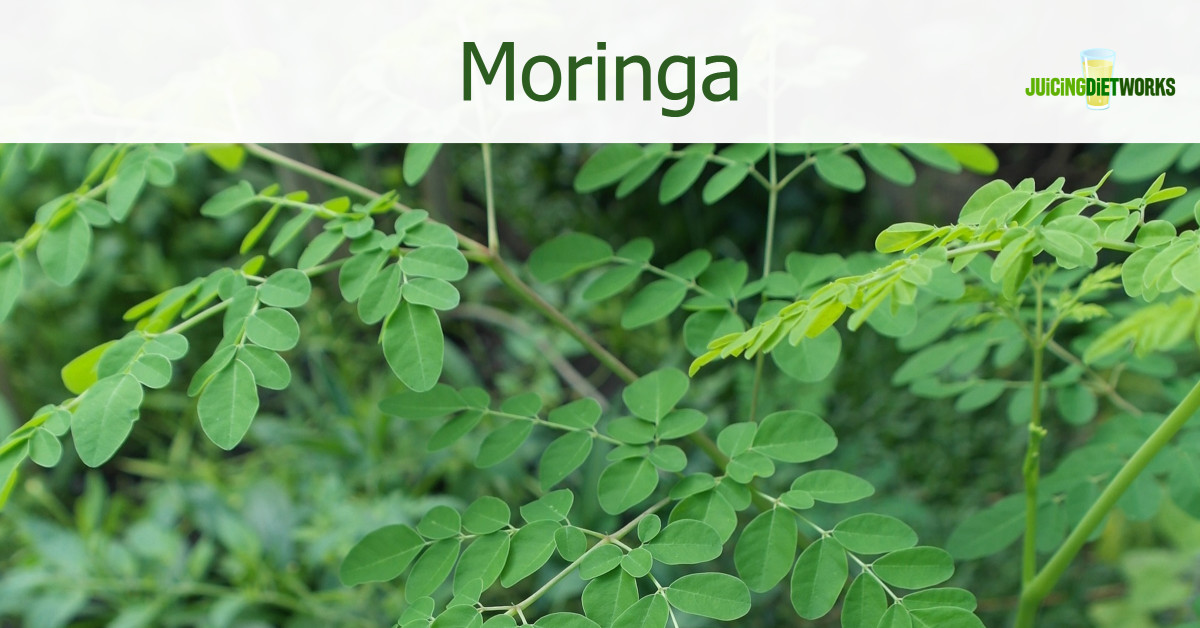 Moringa oleifera is a plant native in India and Southeast Asia. It is a great source of vitamins and minerals including Protein, Vitamin B6, vitamin C, Iron, Riboflavin, vitamin A and Magnesium.
Chlorella
Native mostly to Taiwan and Japan, Chlorella is blue-green algae with tons of health benefits. Interestingly, Chlorella is one of the most nutrient-dense superfoods available today, surpassing superfood powerhouses like kale and broccoli!
Spirulina
Spirulina is Chorella's cousin and another blue-green algae. It's now one of the most researched superfoods with over 1,200 peer-reviewed scientific articles that are related to this superfood.
Mint
Aside from giving the Organifi green juice powder supplement a great minty taste, mint has been traditionally used to aid with sleeping, indigestion and whitening your teeth.
Beets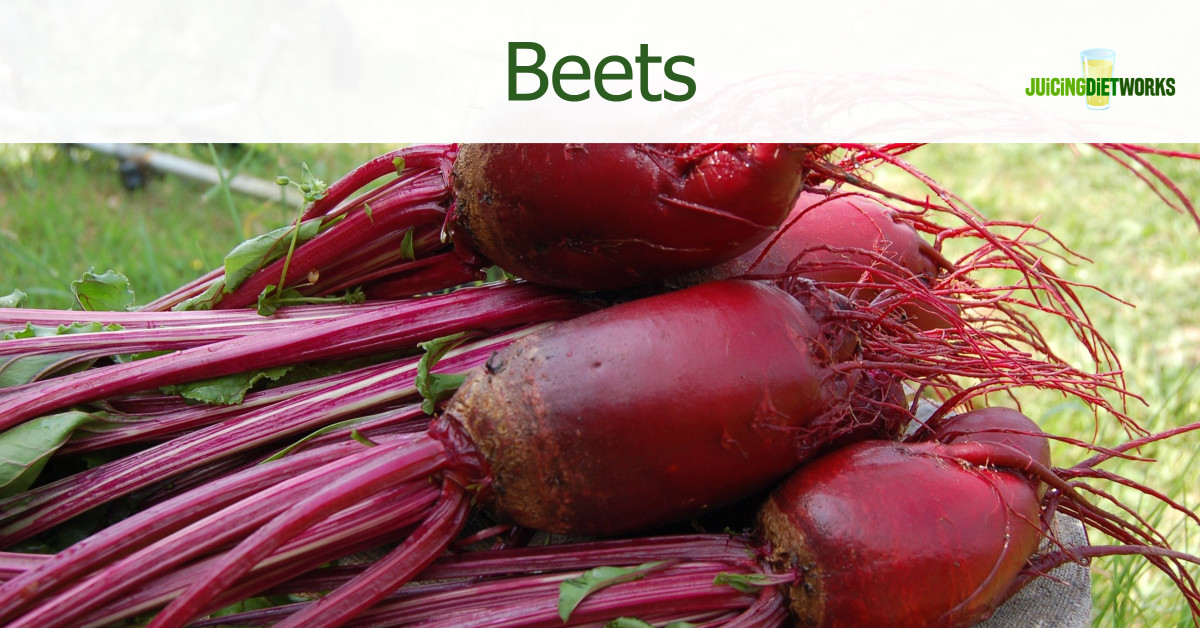 Red beets have been gaining a lot of attention in the past few years because of the available data we have that it's a powerful dietary source for helping aid pathological disorders like cardiovascular diseases and cancer.
It has also been researched to help with athletic performance because of it's increased oxygen levels.
Matcha Green Tea
The matcha green tea had a long history but eventually become an important drink especially in Japan's ancient monasteries.
Even up to this day, the popularity of matcha green tea is growing and has reached the western world because of it's nutritional benefits.
Wheatgrass
Wheatgrass is the young grass of the wheat plant, Triticum aestivum.
Its nutritional components include chlorophyll, flavonoids, vitamins C and E. Due to it's growing popularity more research and studies are being done for wheatgrass.
Ashwagandha
An adaptogenic herb that is very popular in Ayurvedic medicine because of it's effect on lowering cortisol and role in managing thyroid hormone levels.
There are over 200 scientific studies on this herb including one research on how it affects increase in stamina and endurance.
Check out our article on the different health benefits of Ashwagandha here.
Turmeric
Turmeric is probably the most widely researched and most popular supplement in the world today.
With over 6,000+ scientific studies and research into the topic, it is leading the world of supplements because of it's therapeutic and holistic benefits in the brain and body.
Lemon
I've written an article on the 18 benefits of drinking lemon water and there's tons of information on the advantages and reasons to consume lemon more.
Coconut Water
If you've never tasted or tried coconut products, they are heaven-sent. Their delicious and unique taste is definitely something that you'll want to try over and over again.
The coconut is not a nut but is actually a fruit.
And inside the coconut fruit, you'll find the coconut meat (the white part) and the coconut water which is the liquid part of the coconut fruit.
The coconut water nourishes the coconut and it contains a lot of nutrients that are beneficial to our bodies.
Other stuff worth mentioning
Taste
Almost all green powder supplements will taste weird and grassy. Organifi does have that taste as well, but it's much more tolerable than others.
Gives a Boost of Energy
I've noticed that within 30 mins to maybe an hour, I feel like I have a boost of energy and feel that my cells are thanking me.
Seems to Satiate my Appetive
What I've noticed as well is that it has helped suppress my appetite. Of course, you'll want to choose healthier food choices to go with supplementing with Organifi.
Texture of the Drink Settles at the Bottom
Most supplements can be tricky to mix or drink. Which is why it's recommended to mix it with your smoothie or juice drinks.
Mixing the Organifi supplement just on water and leaving it for a while will form sedimentation later on.
Try to also mix it with other natural ingredients and drinks like Coconut water and see if you like the combination.
It may seem Expensive (at First)
The price for Organifi is what's holding back a lot of people. Also, there's a Full refund of your purchase if you're not satisfied with this product.
But I would recommend that you'd at least try it and compare with your other powdered supplements.
Who created the Organifi Brand of Products?
Organifi Green Juice brands were created and founded by Drew Canole, author and blogger at Fitlife TV.
They've launched this proprietary blend of super foods with massive success since 2016 and have now added several variations of the first Organifi product (more details about this later on).
When and Where was the Product produced?
The Organifi Green Juice products are produced in a manufacturing facility that complies with strict manufacturing processes in the supplement industry.
Frequently Asked Questions
Does Organifi help in weight loss and how?
Yes, it helps in weight loss and it has been proven by scientific studies. The ingredients in Organifi are scientifically proven to burn fat, boost metabolism, and suppress appetite. The best part about Organifi is that it contains no artificial sweeteners, preservatives, or fillers.
How should Organifi Green Juice Powder be stored?
Organifi Green Juice Powder should be stored at room temperature away from direct sunlight. If you store Organifi Green Juice Powder in the refrigerator, it may lose some of its potency.
How does it taste?
Yes, it tastes sweet. However, it has no sugar added, and it contains only natural ingredients such as green tea, lemon, ginger, and turmeric. The drink also contains vitamins and minerals that help boost energy levels.
What are the ingredients of Organifi green juice?
The ingredients of Organifi green juice include organic fruits and vegetables, coconut water, and organic greens. Organic fruits and veggies are grown without pesticides, herbicides, fungicides, or other chemicals. Coconut water is rich in potassium, which helps maintain healthy blood pressure levels. Organic greens are packed full of nutrients such as vitamins A, C, K, B6, folate, calcium, iron, magnesium, and fiber.
Is it safe for pregnancy?
Pregnant mothers should consume at least 2 cups of organic, nutrient packed foods daily. This gives them essential vitamins and nutrients needed while they're growing their babies. Please consult your health professional before taking any supplement like Organifi.
How do you use Organifi?
My preferred methods for using the product is either alone with Coconut water only or MIXED on my favorite smoothie drinks. One scoop of these green powdered is enough for the day.
Is Organifi good for you?
The quality and handling of the product are great. It allows anyone to build habits that make it easy to consume more vegetables in a high concentration green drink superfood supplement that contains vital nutrients for your health. And it has a money back guarantee so it's risk free to try.
Who is the main person behind Organifi?
Drew Canole is the owner of the brand Organifi. You might have read or heard about him from his website, Fitlife.tv
How much caffeine is in Organifi?
There is no measurable amount of caffeine in the labeling, but it still contains Matcha Green Tea which may contain caffeine.
Is it suitable for meal replacement?
Organifi Green Juice and other versions of it, are not meant to be a meal replacement but as a way to supplement your consumption of vegetables.
Is Organifi red good for losing weight?
Organifi red is ideal for weight loss because of the fat loss antioxidants it contains like Acai berry.
Is it FDA-approved?
Most (if not all supplements) aren't FDA-approved because they are not meant to treat or diagnose any disease.
Organifi products are manufactured in California under strict supplement manufacturing processes. The ingredients used in Organifi are non-GMO verified and organic.
My Conclusion about Organifi…
If you're struggling to get more beneficial nutrients to your body through the right foods, fruits, and vegetables, maybe it's time to look for other alternatives.
Of course, real fruits and vegetables will NEVER be replaced by supplements, it's not meant to be.
Supplements are there to supplement those needs.
And because Organifi is in the green juice form, it's quick, easy to prepare, no juicing, and no shopping which is very convenient for people like me.
Get these Organifi Bonuses
Bonus #1 – 50 Green smoothie recipes
Bonus #2 – 10 Day Smoothie Cleanse
Bonus #3 – Fat burning secrets guide
Just purchase Organifi (any amount) via my affiliate links and send me an email at hello(at)juicingdietworks.com for access.